Staff
Veterinarians
Kylee J. Thomas, DVM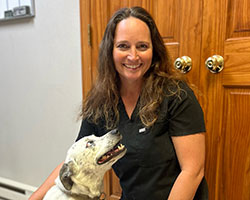 Dr. Kylee Thomas is a 2004 graduate from the Iowa State University College of Veterinary Medicine. After graduation she returned home and began her career at Thomas Veterinary Clinic. During her career she has been dedicated to providing veterinary care to a variety of species as a mixed animal practitioner. In addition to practice she has also represented the veterinary community through her involvement in the Iowa Veterinary Medical Association where she served as President.  When not working Dr. Thomas and her husband Shane stay busy with their four children.
Emily C. Conrad-Gibb, DVM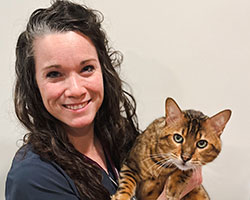 Dr. Emily grew up on a beef cattle farm in SE Iowa. She is a 2014 graduate of Iowa State University College of Veterinary Medicine. After graduation, she practiced in a mixed animal practice in rural western Illinois. Dr. Emily's primary interests are beef production medicine and small and large animal surgery, but she enjoys the diversity of mixed animal practice. In her free time, Dr. Emily and her family enjoy outdoor activities and traveling.
Support Staff
Christy Payne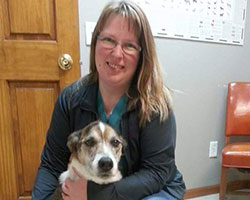 Christy graduated from Kirkwood Community College with a degree in Horse Science Technology in 1995. A few years later, she returned to Kirkwood and completed the Veterinary Technician program in 1999. Following graduation, she joined the Thomas Vet team and has been taking excellent care of our patients ever since.  Christy spends her spare time with her husband and son enjoying the outdoors.
Chelsea Orr

Chelsea has been working in the veterinary industry since 2014. We were fortunate to have her join our team in August of 2022. Chelsea can always be depended on to provide a smile and make the workday fun. Chelsea is busy outside of work taking care of her chickens, garden, husband, and son.
Ashton Bramschreiber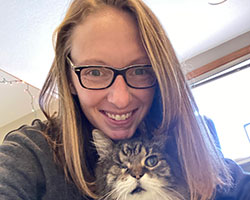 Ashton joined the TVC team in October of 2021. She'll most likely be the face that greets you when you come into the clinic. She grew up on a farm in the area and is willing to take on any task around the clinic that needs done. When she's not at work she enjoys spending time with her husband and two kids.
Cassandra Holdsworth
Cassandra has been at the clinic since July 2023. You can find her both up front taking care of clients and helping the doctors in the back. Outside of work she is active taking care of the farm with her husband and attending her kids' sporting events.
Mackenzie Vanskike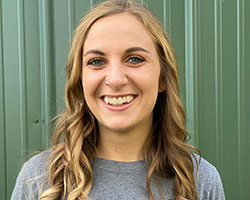 Mackenzie upgraded from Missouri by moving to Iowa and became part of the TVC team in February 2023. She has a variety of experiences with all different types of animals, but especially enjoys helping with equine patients and production animal farm calls. In her free time, Mackenzie enjoys local festivals, spending time with her pups, and riding horses.
Four Legged Staff
These two hitched a ride back to the clinic from a farm call with Dr. Thomas in 2011 and have been permanent residents since. Erin enjoys her morning coffee and pets from everyone. Ethan prefers to run the office and keep everyone in line.
Erin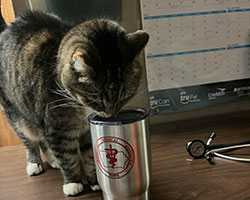 Ethan