Small Animal
Years ago, a family pet received minimal pet care at best. In recent years, veterinary medicine has benefited from advances in diagnostic and treatment options. At Thomas Veterinary Clinic, we firmly believe in preventative care for your pet. This includes annual wellness visits, dental care, proper life stage nutrition, and vaccinations.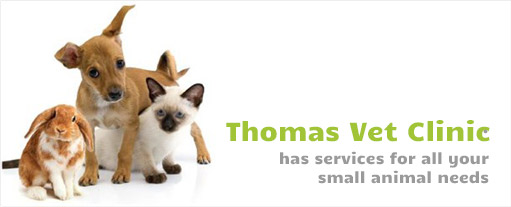 Wellness Exams
We recommend an annual physical exam for pets under 7 years of age and twice yearly for pets over 7 years. Keep in mind that pets age much more rapidly than people and some age related diseases caught in the early stages can often be controlled through medications and even simple dietary changes.
Vaccinations
We recommend an appropriate wellness care schedule for your pet based upon his or her age and lifestyle.
Surgery
We are well equipped to perform all routine surgeries for your pet. We also perform a wide range of non-routine soft tissue and orthopedic surgeries. For pets that will be anesthetized during their stay with us, please withhold food after 10 o'clock the night before. Water throughout the night is fine. To ensure your pet has a safe experience, we recommend pre-anesthetic blood work prior to surgery consisting of the following:
Pre-Anesthetic Chemistry Panel – tells us information about major organ function which will assist us in determining the most appropriate medications to use.
Complete Blood Count – this details information about red blood cell count and white blood count which can indicate infection, inflammation, anemia or other potential anesthetic risks.
The top 4 reasons to test your pet before anesthesia:
You deserve peace of mind. Testing can significantly reduce medical risk and ensure your pet's health and safety.
Pets can't tell us when they don't feel well. A healthy-appearing pet may be hiding symptoms of a disease or ailment. For example, a pet can lose up to 75% of kidney function before showing any visible signs of illness. Testing helps us evaluate your pet's health up front, so we can avoid problems related to anesthesia.
Testing can reduce the risk and consequences. If pre-anesthetic results are within normal ranges, we can proceed with confidence, knowing that anesthetic risk is minimized. On the other hand, if results are not within the normal ranges, we can alter the anesthetic procedure, or take other precautions to safeguard your pet's health and reduce the risk of potential complications.
Testing can help protect your pet's future health. These tests provide baseline levels for your pet and become part of his or her medical record for future references.
Dentistry
Most dogs and cats eventually need a professional dental cleaning using an ultrasonic scaler. After scaling we polish the teeth and apply a sealant to reduce the recurrence of tartar buildup. When your pet goes home following the dental, one of our technicians will discuss home care tips with you.
Dental procedures are performed using the same inhalation anesthetic and careful monitoring techniques that we use for our surgical patients. Many pets have their teeth cleaned on an annual basis to help ensure optimal oral health.
Radiology/Ultrasound
At some point in your pet's life, they may need an x-ray or ultrasound as part of a diagnostic workup. Our practice is well equipped to provide these services the day of your visit.
Endoscopy
We are equipped with a 1meter pediatric/adult endoscope to evaluate the gastrointestinal tract of our small animal patients.
Senior Care
We wish to keep our pets healthy and happy for as long as possible and this can be achieved through exercise, a healthy diet, and regular veterinary check ups. Aging changes such as arthritis, vision, and hearing losses are normal and cannot be prevented. Many changes related to disease, however, can be managed and treated successfully if detected early.
Dietary changes are in order for dogs and cats over 7 years of age. There are many "Senior Diets" on the market and it is likely the brand of food your pet eats has one available.
Boarding
We offer boarding for cats and dogs. We suggest that you make your reservations well in advance because our space does fill up, especially around holidays. During their stay with us all dogs are leashed walked outside twice daily. Please contact us for more information on rates and availability. All hospitalized and boarded animals are fed Science Diet food.
Nutritional Counseling
Your pet's nutritional requirements will change as they grow into adulthood and again when they reach their senior years. A healthy adult dog does not require the same protein content in their food as a puppy does. A cat with early signs of kidney disease should not be fed the same food as a healthy older cat. We can help you make the right choices for your pet's nutritional needs based upon its age, activity levels, and overall health.